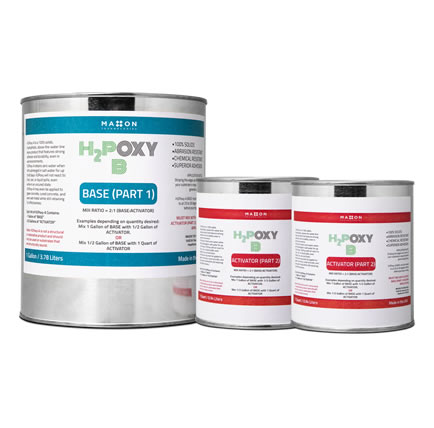 HYDROPHOBIC, BELOW WATER-LINE PROTECTION
H2Poxy-B is a highly thixotropic, heavy mixture of highly hydrophobic materials with a reactive catalyst for quick cure times under water. H2Poxy is a solvent-free high-solids product with excellent wetting capabilities. A hydrophobic liquid resin is used as the primary binding agent. It is both highly adhesive and allows for a bottom to top cure.
To increase long term durability, additional solids have been added for long term underwater durability, and hardness. The catalyst is also hydrophobic by nature and comes from a renewable source. Adhesion to concrete and metal underwater is exceptional.
H2Poxy is drawn from a natural, renewable, non-food chain, raw material, basic feed stock. This allows for a comprehensive green product format.
H2Poxy-B is a 100% solids product.
H2Poxy-B is a green product and contains 0 VOCs.
NOTE: MAXON H2Poxy-B is not a structural or restorative product and should only be used on substrates that are structurally sound.
Bonds to extreme rusted surfaces, C2M, CRS.
Multi purpose coat. High abrasion resistance (0.03).
Two k, long shelf life, fast dry.
Above and bellow water application( no humidity limit).
Large windows application (time, humidity and top coat application).
Hydrophobic (including oil).
Download Datasheet / Catalogue