Implementing The Dry Gas Coupling system
DDCouplings can be installed on new RTC's as well as retrofitted to existing RTC's.
Loading hoses equiped with Mann Tek DGC Hose unit permanently.
Old Rail tanker equipped with Acme-type couplings.
Dry Gas Tank units supplied with Acme-type threaded connections (adaptors) to be installed on the Railtanker.
Environment Friendly Refuelling Of Locomotives With Mann Tek DDCouplings - Solution For Refuelling
Using Mann Tek 2" (70 mm) DDC Dry Disconnect Couplings a change of nonautomatic and automatic nozzles is possible on site, using only one hose reel.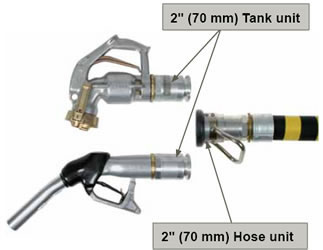 Advantages
Only one hose reel for different nozzles.
Tank unit and Hose unit close automatically when seperated. No liquid will flow out from the hose or nozzle.
Coupling is effected nya a simple rotation movement, up to max. 7 bar. The integrated swivel within the Hose unit will avoid torsion of the hose.
Almost all parts are made of aluminium to reduce weight.
Refuelling of locomotives with Dry Disconnect Couplings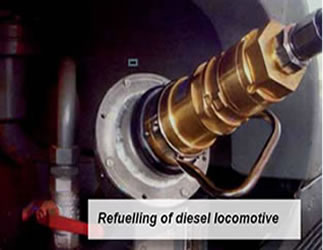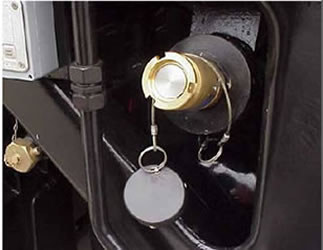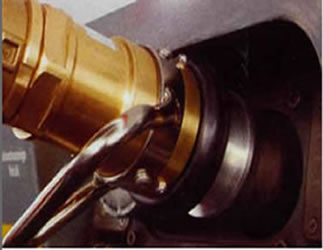 To prevent accidental mixing of media, selectivity versions of Hose and Tank units are availabele.

The Tank units are furnished with slots and Hose units with pins. Many different selectivity codes are possible depending on coupling size.
Hose Unit with Lockable Swivel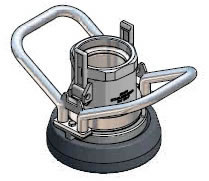 Hose unit with Swivel and free hose movement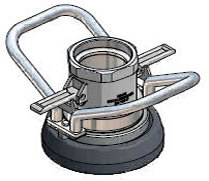 None Projecting Piston Spindle:

Tank units with no parts protruding from the coupling in connected position.

For mounting directly on ballvalves, etc.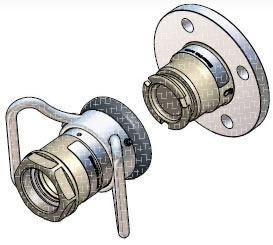 Mann Tek DDCouplings® in PEEK for extremely corrosive media, for example hydrochloric acid. Inner parts in Hastelloy.

2" DDCouplings in PEEK are used for Vapour line

3" DDCouplings in PEEK are used for E.G loading/unloading of Rail Tankers
DDCoupling Hose Unit with Break Away Integrated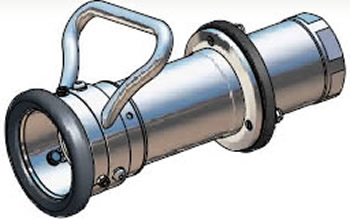 Where there is a risk of excessive force on the hose due to unexpected movement between the loading and unloading station, combining the Dry Disconnect Coupling with a Safety Break Away coupling.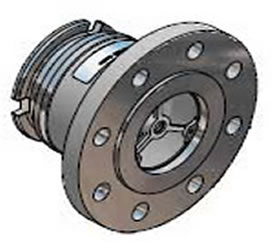 Tank unit
Flange EN 1092-2001 Type E (Spigot)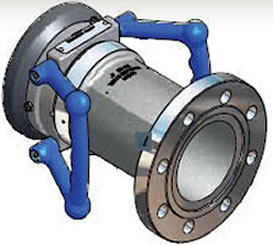 Hose unit
Flange EN 1092-2001 Type F (Recess)
Spigot Type E and Recess Type F has a straight sealing surface which differs from standard flanges. It is a special version that some manufacturers of tankers (tank trucks) and railway-carriages (rail tankers) use as the default for certain applications.
Tank Units/Adapters with Excentrical Flanges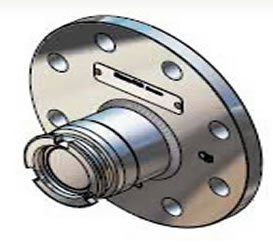 Tank Units/Adapters with Excentrical Flanges are available in sizes 1" to 6".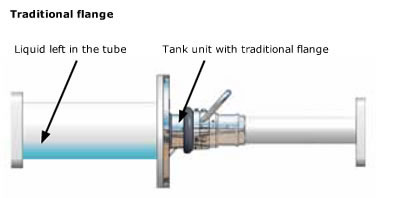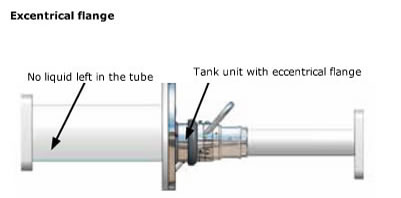 Pressure Cap for Tank Unit/Adapter - Working Pressure PN 10 bar/PN 25 bar
Can be used as a second or third closing device according to ADR/RID par 6.8.2.2.2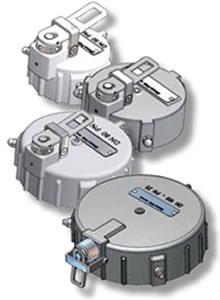 The Mann Tek Pressure Cap for Tank units/Adapters is designed to maximize operator safety and containment safety.

Should the possibility of an upstream closure leakage occur, the Pressure Cap provides identification of a system pressure and will hold this pressure until the problem can be safely resolved. Should the operator still choose to remove the cap it will reduce the static pressure to zero thus preventing the forceful expulsion of the transfer media.
Features
Pressure indicator
Depressurization
Customs/tamper seal feature
Automatic locking
Manually lockable (with padlock)
Working Pressure
Pressure Cap for Tank Unit/Adapter - How It Works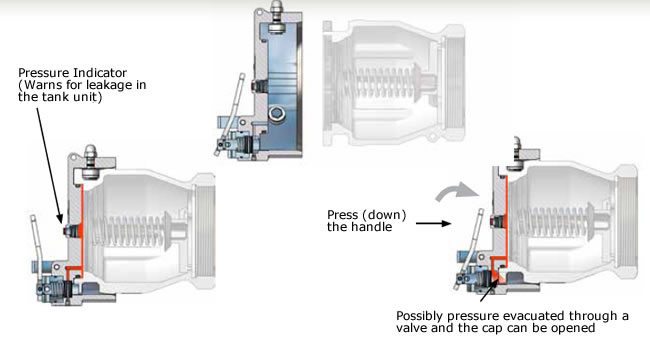 Dust Cap
Dust Protection In Rubber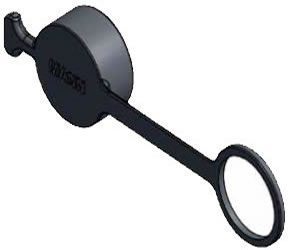 It´s only possible to remove the cap from the Tank Unit/Adapter after pulling the securing stift and at the same time twisting the cap. The Dust Cap is manually lockable with padlock.
Dust Cap For Increased Safety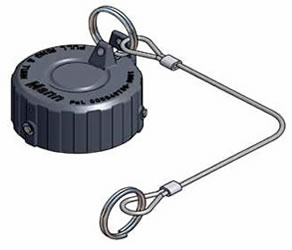 A Dust Cap gives very good protection against corrosion, and withstands both hot and cold environments.
Standard Caps in Composite (Polyeten PE-HD 300)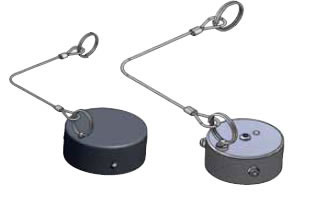 It covers the widest range of chemical and petroleum products.
Elastic v-ring seal in standard NBR that makes disassembly easier and seals of a larger surface than conventional O-rings
Lockable and sealed
Patented design
Caps are also available in Stainless Steel and Aluminium. Other materials on request.
Dust Plug to Prevent Ingress of Dirt and Water
Use the Mann Tek Dust Plug to prevent ingress of dirt and water in the couplings.

The material in the Dust Plug is Composite, Aluminium and Stainless Steel.
Hose Swivels
The use of swivel hose avoids torsion of hose assemblies, i.e. in filling machines, and improves the handling and coupling of nozzles for refuelling of petroleum based products and chemicals.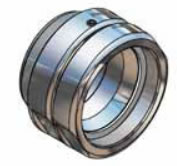 Sizes
3/4" (DN20) to 4" (DN100)
Maximum Working Pressure
MWP PN 10/16/25.
MAWP 150/300 psi
Test Pressure
Materials
Aluminium, Brass, Stainless steel, Hastelloy, Titanium. Others on request.
Connections
Female and Male BSP/NPT, ACME, Witworth threads and flanged DIN and ANSI. Others on request.
Features
Simple design, low maintenance. Each unti consist of two body halves. Stainless Steel balls and a single spring assisted O-ring seal.
Compact external dimensions
High flow rate/low pressure drop
High flow rate/low pressure drop
Minimal maintenance requirements
Safety Swivel function - allows the hose to relax to it´s natural rest position whilst allowing freedom of movement without imparting torque stress at the point of connection - Torque stress is the largest single cause of Composite, PTFE and Stainless Steel convoluted hose failure.
Economical Cost effective solution to prolong lifetime of hoselines.
Heavy Duty Swivels
Swivel Joints are used in the industry wherever a movable pipe-connection system between two equipment parts is needed.
The swivel joints are designedfor slow rotary motions under the influence of high internal pressures and/or big external stress such as traction and bending forces.
With an appropriate combination of swivel joints nearly all movements from the simple rotation or swivelling motion up to motional actions in space can be realized.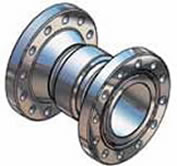 Sizes
1½" (DN40) to 10" (DN250)
Materials
Stainless Steel.
Other material on request.
Maximum Working Pressure:
MWP PN 10/16/25/40
MAWP 150/300/600 psi
Connections
Female and Male BSP/NPT, ACME, Witworth threads and flanged DIN and ANSI. Others on request.