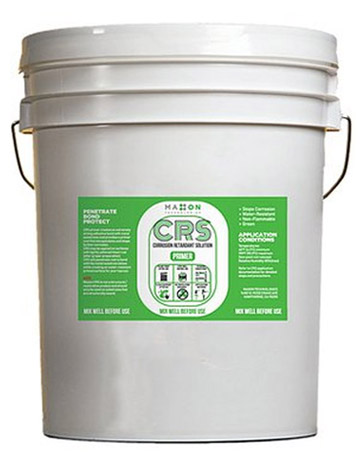 SCIENTIFICALLY PROTECTS METAL FROM CORROSION
CRS is an ANTI-CORROSION PRIMER that has the unique ability to be applied directly onto rust.

*

CRS contains OXYGEN BLOCKING PROPERTIES, which allow it to virtually stop the corrosion process.
CRS provides EXTREME TIME SAVINGS by dramatically reducing preparation costs and requirements.
CRS is a green product and contains a low VOC level of 25 grams per liter.
* tightly adhered intact rust
NOTE: MAXON CRS is not a structural or restorative product and should only be used on substrates that are structurally sound.
Rust penetration up to the white metal.
"Fire wall" – no migration.
One k, long shelf life, fast dry.
Large coverage (2x30 microns).
Large windows application (time, humidity and top coat application).
Coating on existing paint.
Application Instructions
PREP
No sandblasting, or grinding to white metal required.
Pressure wash to remove loose or flaky debris.
Degrease surface.
Remove degreaser.
APPLICATION
Can be applied using a brush, sprayer, or roller.
Can be applied to damp surfaces (no pooling water).
Light/Thin application recommended (1-2 mil DFT).
Dries in 30 mins to 1 hour.
TOP COAT
Compatible with all solvent, polyurethane, water base and epoxy paints.
Works extremely well with MAXON VLS, C2M
Maxon H2 POXY and Maxon Nano
Compatible with popular marine topcoats from JOTUN, INTERNATIONAL and others.
Project - Hull Renovation

Extreme pitting, shedding, and biological corrosion
Sandblasting, hand tooling, needle gun, were not to be used due to the thickness of the metal
Project completed under budget due to application process's simple learning curve
Material usage lessened during the length of the job as the crew got more experienced
Project - Cargo Ship Deck

Primary issue: Chloride induced pit corrosion exacerbated by collected salt water.
Anticipated schedule: 5 men/7 days
Actual schedule: 1.5 men/4 days Using CRS and INTERNATIONAL marine topcoat
Download Datasheet / Catalogue