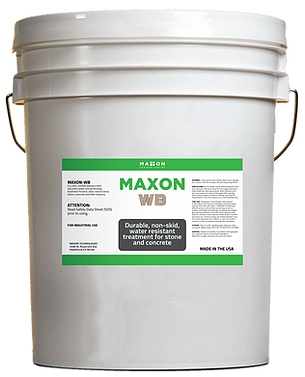 MAXON WB - Concrete Water Barrier
The advantage of MAXON-WB (Water Barrier) is the ability to provide a durable non-skid water-resistant product that still allows the substrate to breath. It will not change the look of the coated substrate after drying, nor be affected by freeze thaw cycles, and will prevent efflorescence on concrete substrates. MAXON-WB is a liquefied resin silica. It can be used after other permeating products and cures as a water proofing, non-skid agent. After MAXON-WB hardens it will be abrasion resistant and creates a long-lasting barrier for concrete substrates.
NOTE: MAXON-WB is not a structural or restorative product and should only be used on substrates that are structurally sound.
Download Datasheet / Catalogue