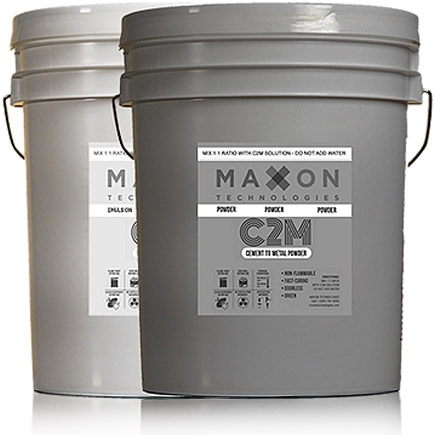 C2M resists multiple environmental threats, including: Ultraviolet Light, Abrasion, Freeze/Thaw, Thermal Shock, Salt, Fog, and Humidity.
C2M requires minimal hard rust surface preparation while providing high substrate and top coat bond strength.
C2M cleans up easily and quickly with just water and is environmentally friendly and safe.
C2M can be bent up to 90 degrees without cracking.
C2M is a green product and contains a low VOC level of 43 grams per liter.
NOTE: Maxon C2M is not a structural or restorative product and should only be used on substrates that are structurally sound.
Bonding to extreme rusted surface.
"Shield" coat. High abrasion resistance.
Two k, long shelf life, fast dry.
Large coverage (2x50 microns).
Large windows application (time, humidity and top coat application).
Coating on existing paint.
Application Instructions
PREP
No sandblasting, or grinding to white metal required.
Pressure wash to remove loose or flaky debris.
Degrease surface.
Remove degreaser.
APPLICATION
Can be applied using a brush, sprayer, or roller.
Can be applied to damp surfaces (no pooling water).
Strong adhesion to metal or rusty metal surfaces.
Recommended (2-4 mil DFT).
Dries in 15 to 30 mins.
TOP COAT
Compatible with any and all top coats.
C2M can be used as a top coat.
Works extremely well with MAXON CRS, VLS, Maxon H2Poxy.
C2M is extremely abrasion resistant and flexible.
Project - Offshore Oil Rig

Originally assumed that treatment would require sand blasting and hand tooling, but the location of the deck made those procedures cost prohibitive
CRS and C2M do not require any blasting or hand tooling. All that was necessary was to: power wash, degrease, and power wash again. CRS was then applied. After drying, a C2M was applied as top coat.
Project - Barge

Dry docking not possible, sandblasting and grinding not allowed due to EPA harbor restrictions
Prep required: pressure wash and degrease. Then apply CRS. When dry, application of C2M and appropriate marine top coat was applied.
Scheduling: 3 men, 3 days, while in operation
Download Datasheet / Catalogue